support services
ADHOC:
Adhoc Support from Synapse is an easy way to get acquainted with how we operate. With no lengthy contracts to sign or other un-necessary barriers preventing you from getting the help you need, our skilled team of engineers are on hand and available to assist you.
Whenever you have a technical problem that you need help with or perhaps just don't have time to solve yourself, simply pick up the phone or send us an email and we'll be delighted to offer you a warm welcome.
Since 1998, we have looked after Adhoc Support customers from all walks of life – from big Corporates to individuals at home – and in many countries around the world too. Our state-of-the-art help desk software ensures we get to the root of any problems as quickly as possible and also that those requiring help benefit from knowledge gained from past experiences supporting a diverse range of customers.
Why not give us a try next time you need help?
Either email us at enquiries@synapse.it or call +44 (0)20 7060 3500.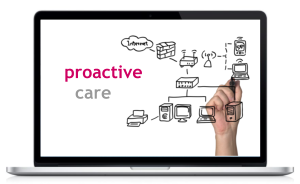 PROACTIVE TOTAL CARE:
Proactive Total Care is for those customers who prefer to pay a fixed monthly charge which encompasses proactive monitoring and maintenance of their machines, perpetual AntiVirus and AntiMalware protection, plus all Synapse labour charges – both remote and on-site. Machines are proactively protected and monitored by our Network Operations Center 24 hours a day, 7 days a week, 365 days a year for a simple fully-inclusive flat fee per month.
Our highly-intelligent Proactive Monitoring & Maintenance Agent is installed on all systems and – by having it perform behind the scenes monitoring and maintenance around the clock – we can drastically reduce the amount of downtime you and your staff experience. In the long run, you save money with fewer issues, less downtime, and a no-surprises flat-rate that makes things simple.
Additionally, with simple per-workstation and per-server pricing, it also helps financial controllers to budget their IT support costs more accurately. Imagine how much faster issues will get resolved if your entire staff can get assistance for any problems at the drop of a hat without increasing your monthly IT expenses?
Should a user of a machine covered by PTC run into technical difficulties our help desk is on hand to provide assistance between the core UK business hours of 9:00 am and 5:30 pm, Monday to Friday – either remotely or, if deemed necessary by our engineers, on-site too. Should out of hours support be required or preferred, this can also be provided by arrangement for an additional fee.
Simply put, Proactive Total Care allows business owners and staff to concentrate entirely on running and growing their businesses rather than be dragged into firefighting technical problems affecting PCs, Macs, mobile devices or servers.
Many of our existing customers have simply transitioned over to Proactive Total Care after sampling our Adhoc Support first. They have come to regard us at Synapse as an essential and integral part of the team. With Proactive Total Care we become your very own full-time IT department.
Please note that PTC is a service we offer to prevent and/or provide assistance with technical problems only – should consultancy services be required (perhaps the setup/installation of a new machine or the installation or configuration of a suite of applications) Professional Services is available to be purchased either on an Adhoc or on a discounted basis.